Condominium owners know how much they are paying for electricity and gas when their bills arrive every month or two. But most owners don't have a reference point to compare their usage against. Is your building using more or less than average? What about the common spaces that you pay for indirectly through building management fees? Or natural gas that is paid by the Strata Corporation (Home Owner Association), but used within condo units? Is money spent on energy being wasted by the collective within your building? RDH is helping condo owners find the answers to these question and providing guidance and solutions for those owners, saving them money and reducing their environmental impact through "deep energy retrofits".
In 2012, RDH conducted a building enclosure condition assessment followed by an in-depth energy and sustainability research project to evaluate potential energy efficiency upgrades to major building systems for a 13-storey, 37-unit residential building located in Vancouver. RDH used energy benchmarking to plan and track energy savings and emission reductions from the $3.6 million building renewal project, which improved the comfort, durability, acoustics, aesthetics, and energy efficiency of the building, while also modernizing its appearance and lowering its carbon footprint. The first phase of the deep retrofit project has won several awards, including the Association of Professional Engineers and Geoscientists of BC's Sustainability Award, the Canada Green Building Council and Sustainable Architecture and Building Magazine's Technical Achievement Award, and the Fenestration Association of BC's Project of the Year Award.
Planning the Deep Energy Retrofit
The building owners hired RDH Building Engineering Ltd. to conduct a building enclosure condition assessment, followed by an in-depth energy research project to help them evaluate potential energy efficiency upgrades to major building systems (including mechanical systems) that use or affect the use of energy. The research included calibrated energy modelling of the whole building's energy performance, used to predict the actual energy bills for the building, and to simulate a number of "what-if" scenarios and assess the benefits and costs of several energy efficiency measures (EEMs) beyond common industry practices for existing building upgrades. Overall, the building's owners aimed to increase their whole-building energy savings by 20% and reduce electricity use by 32% through the implementation of the following EEMs in the first phase of the retrofit:
Adding wall insulation and low-conductivity cladding attachments outside of the concrete slabs.
Upgrading the windows, replacing aluminum-framed windows with triple-glazed fibreglass-framed windows.
Improving the whole-building airtightness with new windows and a liquid-applied air barrier system, enabling a 55% improvement.
Phase two of the retrofit project will address current ventilation challenges and heating system improvements, increasing the targeted, whole-building energy savings to 30%, and making a significant reduction to GHG emissions. Although this will result in increased electricity consumption for ventilation, it will ultimately improve indoor air quality and provide other benefits, while still allowing for energy savings. RDH's Lorne Ricketts recently spoke on these benefits at the 19th Annual Westford Symposium on Building Science Summer Camp. You can view his presentation here.
The Results: Pre-Retrofit vs Post-Retrofit
Detailed measurement and verification research work has been conducted since the upgrades were installed in 2012. The research included sub-metering of many energy-using systems, energy bill tracking, benchmarking, and further calibration of the simulation models. A separate analysis was conducted on space heating impacts and found that the building enclosure upgrades achieved a 62% reduction in electric space heating in suites.
The following figure demonstrates the building's pre-retrofit and post-retrofit performance relative to the median energy performance of 39 buildings that were examined in a 2012 study on energy consumption in mid- and high-rise multi-unit residential buildings. The building enclosure retrofit was able to reduce the energy use from slightly above this median to well below.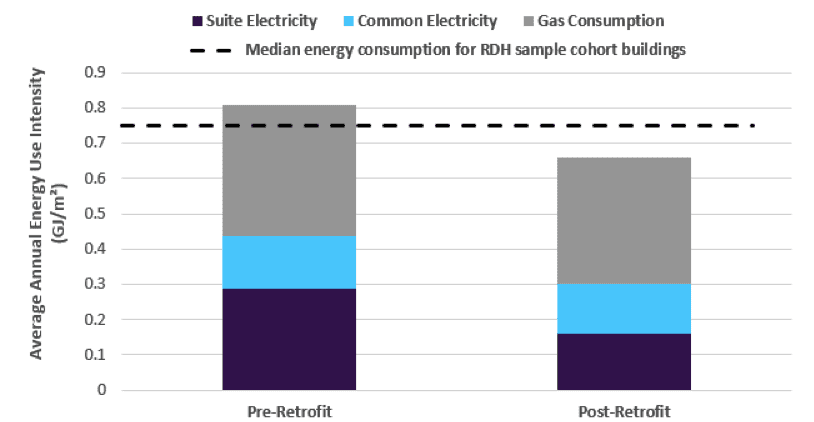 By investing in a deep energy retrofit study and in their building enclosure renewal project, the owners were able to achieve a net benefit over and above capital costs of nearly $53 per metre square in the building. This amounted to an incremental rate of return of 34% and a simple payback of just 2 years.
Conclusion: What Does This Mean for Your Building?
As a building ages renewals and repairs become a regular fact of life. Owners who take the time to thoroughly assess the opportunities for improvement in the energy performance of their building in concert with regular building enclosure condition assessments, maintenance and upgrades can achieve significant economic and comfort benefits.
Where You Can Learn More
For more information on the retrofit project discussed above you can review:
For additional information about the deep energy retrofit services that RDH can provide for you, please contact our experts. You can find Andrew Pape-Salmon on LinkedIn and on Twitter @PapeSalmon