Women's Equality Day is observed on August 26 to commemorate the 1920 adoption of the Nineteenth Amendment to the US Constitution. This amendment prohibits the federal government and the states from denying any US citizen the right to vote based on the person's gender. Women's Equality Day is an opportunity for us to celebrate strides made in gender diversity within our field of work. The building industry, like other traditionally male-dominated fields, has much to gain from the inclusion of diverse gender perspectives.
Marine Sanchez is a compelling example of how women have a crucial leadership role to play in shaping the future of climate-friendly construction. Having gender-varied representation on design teams enables different approaches to solve complex problems, and Marine's impressive track record highlights opportunities for young female professionals to contribute their expertise to the construction industry.
About Marine
Marine Sanchez is a Senior Consultant who leads RDH's Passive House consulting services. She focuses on the delivery of large-scale institutional and mixed-use projects. Determined to make a positive impact with every project she works on, Marine channels her passion and expertise to drive meaningful change in the industry to address the climate emergency.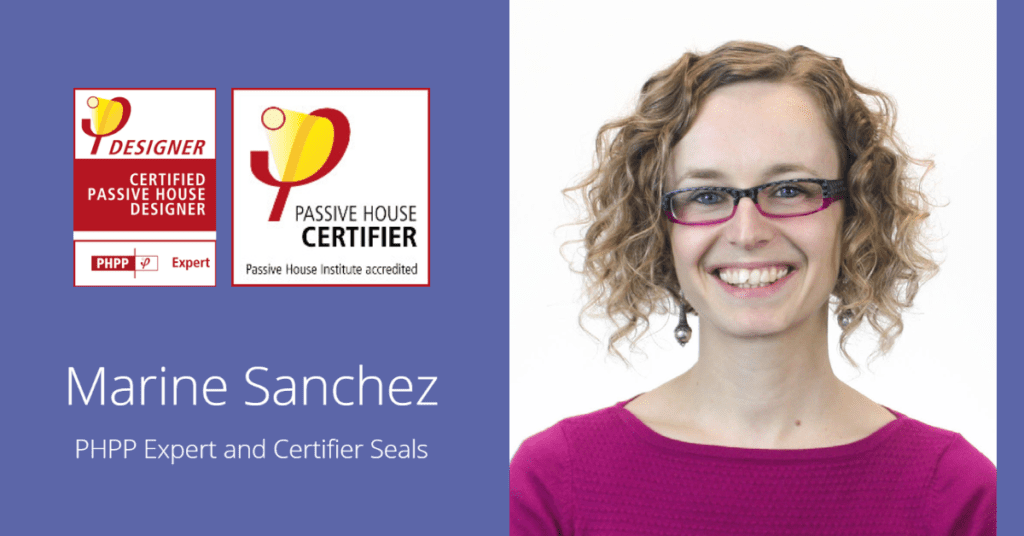 Marine specialized in the Passive House standard early on in her career, using it as a framework to close the performance gap and curb carbon emissions. She became a Certified Passive House Designer (CPHD) in 2013 and a Passive House Certifier in 2019. In 2022, she was awarded the PHPP Expert seal in recognition of her expertise in complex mixed-use buildings.
Marine has consulted on and led a variety of new-build and retrofit Passive House projects, from deep energy retrofits to large-scale, new-build, mixed-use buildings. Her goal is to deliver high-performance, low-carbon buildings at scale more affordably and efficiently across all sectors. Doing so requires leadership to guide design teams into unchartered territories while enabling deeper integration between disciplines to achieve optimized design solutions. Experience shows that having gender-varied teams involved in the design stage enables greater creativity and more fruitful outcomes.
Marine has extensive experience in supporting the delivery of high-performance buildings in both Europe and Canada. She has led many design and site teams unfamiliar with Passive House toward certification. She does so by empowering teams with the information needed to manage stringent energy/carbon budgets and interpreting key changes in the procurement/implementation process during construction. Her work also extends to assisting with new industry-leading developments such as the design of high-performance commercial kitchens for the University of Toronto and the University of Victoria Student Residence.
In addition to her consulting work, Marine is dedicated to promoting high-performance building practices within the industry. She has more than a decade of experience as a trainer in the Passive House community in the United Kingdom and Canada. She also supports various levels of government in implementing policies, including the City of Toronto's Zero Emissions Buildings Framework. Marine's contributions and success in a field in which women are still a minority demonstrate the need for more inclusive, mixed-gender teams. This should serve as encouragement for women who are passionate about creating a more sustainable future to consider a career in the building industry.
Project Highlight: Women Designing for Women – Thunder Woman Healing Lodge
Marine is part of the all-female team leading this 6-storey mass timber Passive House project in Scarborough, ON.  The new healing lodge will provide support and transitional housing for formerly incarcerated Indigenous women.
The lodge project was initiated by the Thunder Woman Healing Lodge Society (TWHLS), an Indigenous-led community group whose mission is to promote and provide services for Indigenous women in the greater Toronto area. The healing lodge is the group's mandate. The lodge will include 12 beds for women leaving federal or provincial corrections facilities and 12 affordable transitional housing units for women who have completed the Thunder Woman Healing program. The aim of the healing program is to help Indigenous women who have been involved with the justice system to reconnect with their culture, spirituality, and communities.
TWHLS sought to develop the lodge in line with Indigenous teachings about Respect for the Land, so members of the group were deeply involved in the project's design. The guiding principle of these teachings is to make decisions based on how those decisions will impact the next seven generations. The client group and design team, led by Susan Speigel Architects, are committed to applying best sustainability practices with the use of an all-electric Passive House design to achieve low operational carbon emissions, in parallel to a mass-timber structure and careful enclosure material specification approach for low embodied carbon emissions.
More information: https://www.twhls.ca/projects-2/the-lodge-project/
Project Highlight: University of Victoria Student Housing & Dining Complex
The University of Victoria (UVic) is building a new $201 million campus housing project, designed by Perkins & Will, to support the rising need for affordable student housing. The new residences are split between an 8-storey and an 11-storey building, housing 783 student accommodations, a 600-seat dining hall, a large institutional kitchen, teaching theatres, meeting rooms, informal gathering places, and a designated Indigenous student lounge.
The buildings are designed to be high-performance, meeting both Passive House and LEED standards. Once complete, this will be UVic's first Passive House project; a pioneering project for this building type, and one of the largest and most complex Passive House certified projects in Canada. The complexity is due to the project size, electrification choices, and sustainability requirements (including resiliency against future climate events), alongside the presence of a large commercial kitchen (~9,000 meals/day). The kitchen alone is the dominant energy end-use and a new typology for Passive House buildings, for which research and deeper discipline integration were required to significantly improve the kitchen's energy consumption to best-in-class levels of performance.
The first of the two buildings, constructed by the EllisDon Kinetic joint venture, received conditional occupancy on July 28, 2022. Final touches are ongoing, but the facility is safe and operational and will be ready to house 398 students starting September 2022! Building 1's final whole-building airtightness test yielded impressive results: the building achieved an average air change rate of 0.22 ACH @50Pa, surpassing both project-specific and standard targets of 0.4 and 0.6 ACH @50Pa, respectively. This is exciting news, bringing the project one step closer to full Passive House certification and expanding high-quality affordable housing options for students. System commissioning is currently ongoing, which is the final step before submitting the final energy models and supporting documentation to the Passive House Institute to achieve certification.
The success of this project is owed to the drive and commitment of the university, the teamwork and problem-solving of the design team, the dedication of the construction team, and the inclusive environment with a diversity of gender representation throughout this entire process. The University of Victoria's Student Housing & Dining Complex is setting an important precedent on the national and international stage, demonstrating the industry's readiness in designing and delivering the buildings we need for climate action.
Hear More from Marine in a Recent Podcast with Passive House Accelerator
Marine and Zack discuss the state of Passive House in Toronto and Ontario, the impact of the Toronto Green Standard and carbon tax policy on developer decision-making about incorporating Passive House in their projects, and more.
https://passivehouseaccelerator.com/podcast/passive-house-podcast-ep-86-marine-sanchez-rdh-building-science?m_cid=03f8d334ea&mc_eid=6bf6962a0f
More from Marine
Interview article with Marine Sanchez that introduces the Toronto Green Standard: https://passivehouseaccelerator.com/articles/interview-with-marine-sanchez-rdh-building-science-about-passive-house-and-the-toronto-green-standard
Video of Marine's presentation to the Global Passive House Happy Hour about the Passive House Dormitory at University of Toronto Scarborough: https://passivehouseaccelerator.com/videos/marine-sanchez-passive-house-dorm-at-u-toronto