We are excited to share that we've received ISO 17025 accreditation through the ANSI-ASQ National Accreditation Board (ANAB) for our Waterloo research facility. This means we entered 2021 with the added capabilities in which the ISO 17025 accreditation brings.
In this blog post, we will share what this achievement means for our Waterloo facility and how it can you help with your testing needs.
If you are interested in exploring ISO 17025 accredited testing in more detail, contact Aaron Grin at agrin@rdh.com.
What does it mean for our clients?
Accreditation means our clients can now choose to have their hygrothermal testing accredited under the ISO 17025 standard. The procedure will be much the same, but upon requesting accredited testing, clients will receive the official accreditation stamp.
ISO 17025 accreditation also provides us with a number of opportunities to provide further value for our clients:
We now meet the requirements for materials testing certifications, including the Canadian Construction Materials Centre (CCMC) in Canada and International Code Council Evaluation Service (ICC-ES) evaluations in the USA. It also adds a strong foundation to tests completed in support of forensics and litigation.
Test results that adhere to the ISO 17025 standards can be used for input into hygrothermal and other modeling packages, such as WUFI. When manufacturers are seeking performance data, our ISO 17025 accreditation aids manufacturers because they can also report the results in their specifications and technical documents.
On litigation projects, the global recognition of ISO 17025 provides confidence in the testing results completed in our laboratory, and we are well prepared to answer questions and provide documentation as evidence of our results.

Why did we pursue accreditation?
The short answer is that we did it for our clients. The accreditation is added assurance for our clients that we can consistently conduct testing that produces appropriately accurate and precise results.
The process of achieving the accreditation has also enabled us to standardize a number of our methods and documentation as well as go back to the basics and validate our methods.
What is ISO 17025?
We get this question all the time. ISO 17025 is a standard that outlines requirements for the accreditation of testing and calibration laboratories. Essentially, it is a version of ISO 9001designed specifically for laboratories that conduct testing and calibration. The Waterloo facility is now accredited as a testing laboratory. Our scope of work can be viewed below.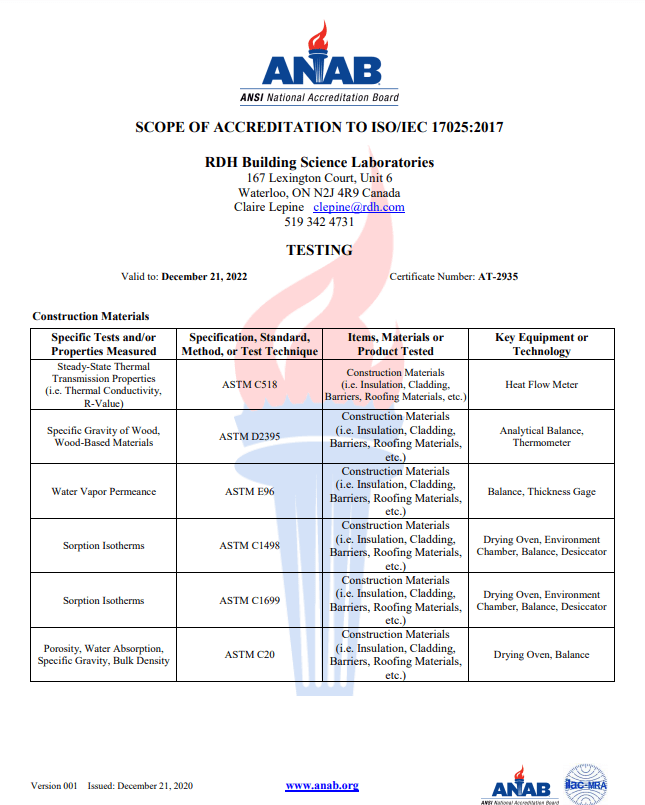 Will more tests be added in the future?
We are actively exploring the possibilities of adding a wider range of tests and making them available to our clients. Air permeance of materials and assemblies, water testing, and structural testing are just some of the areas we hope to expand into.
If you are interested in learning more about how ISO 17025 accredited testing can add further value to your products, contact Aaron Grin at agrin@rdh.com to learn more or request a proposal.