In early 2021, it was announced that a unique project would be undertaken in the city of Vancouver, BC—one that had not been attempted before in BC. To foster a culture of inclusion and diversity, the owner Soroptimist International of Vancouver has partnered with developer Purpose Driven Development to field an all-women design team to design and deliver the new SIV Housing for Women by Women project. The project is a purpose-built affordable housing complex for women and women-led families. And as the name would suggest, it is a building by women for women.
In October 2020, our RDH Vancouver team was made aware of the project and knew instantly that this was something we wanted to be involved with. After several months of anticipation, we received the good news: our team would provide building enclosure consulting services on this landmark project. With our passion for building science and our ability to provide a multidisciplinary approach, we are committed to delivering  an affordable housing solution built to best meet the needs of women.
Although the project is still in the early stages of design, to us this project is already a significant step forward in breaching the inequity gap and showing that women can pursue meaningful careers in the construction industry. We are excited to share the details of the project, the team, and what this project means to the industry and RDH.
The Project
When presented to the project team, the SIV Housing for Women by Women building had a clear purpose: to create affordable and long-term housing for senior women, women-led families, and workforce women in Vancouver. To achieve this, the building will provide 50 studios, 38 one-bedroom units, 35 two-bedroom units, and 12 three-bedroom units in a central and accessible neighborhood. Even the proposed design ties in with the building's purpose: The façade has been designed, according to the developer, with "soft curvy balconies that wrap around the building and include flowing architecture intended to reflect organic feminine energy." With the residents in mind, the design allows for shared outdoor space that will potentially include a Zen garden and a children's play area. In tandem with the goal of creating a home for women, the project team is targeting a sustainable design approach that will see the building comply with the City of Vancouver's requirements for its Green Building Policy for Rezonings and the Low Emissions Green Buildings standard. Above all, the building will provide a safe and comfortable space for the residents to live and follow their ambitions.
The Project Team
One of the unique aspects of this project is that it boasts an all-women design team. The owner,  Soroptimist International of Vancouver, is an organization dedicated to providing women with the resources and opportunities to reach their full potential and live their dreams. The team is led by Purpose Driven Development Founder and CEO, Carla Guerrera, who is internationally renowned for her approach to development. With strong leadership in place, the role of architect falls to GBL Architects, spearheaded by Principal, Amela Brudar. The consultant team supporting GBL Architects is entirely composed of industry-leading women for all disciplines.
Building on RDH's past success working with GBL Architects, our team is excited to work with them once again. RDH's team is led by Principal and Building Science Specialist, Catherine Lemieux. With a positive track record in engineering high-performance building enclosures, Catherine will work closely with Emily Vance, Building Science Engineer (EIT). Beyond her time at RDH, Emily has dedicated several years to non-profit work focused on rebuilding communities following natural disasters around the world. RDH's one-firm approach also provides our team with access to an array of female specialists from our nine offices.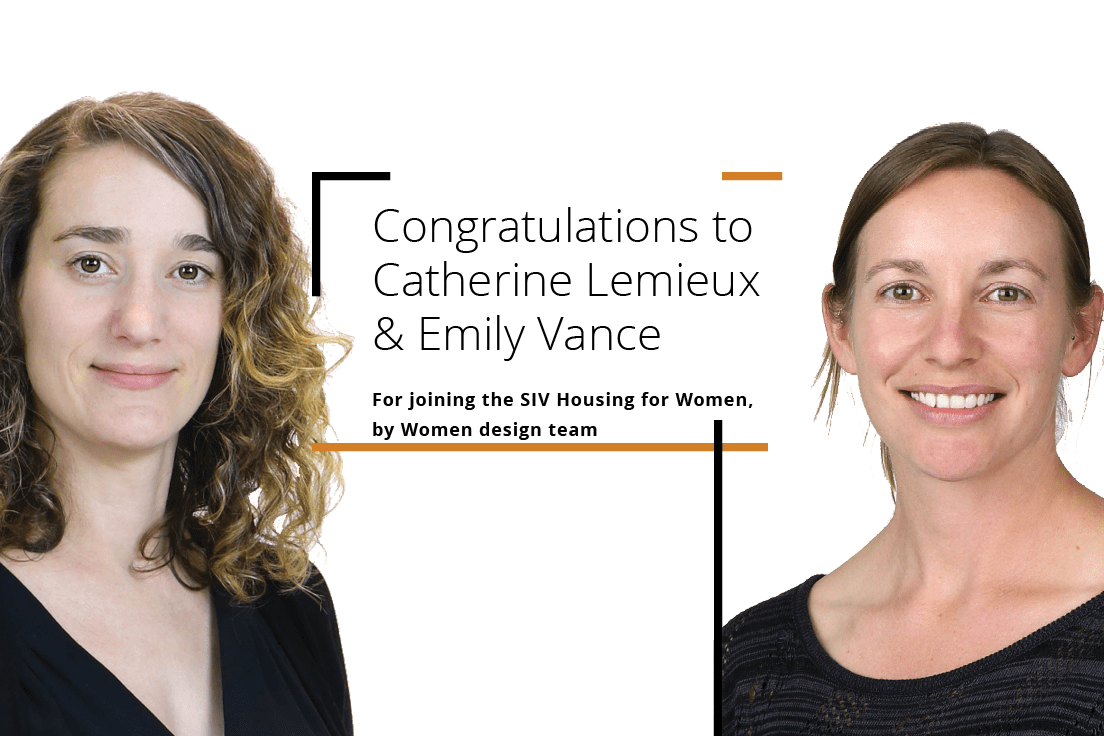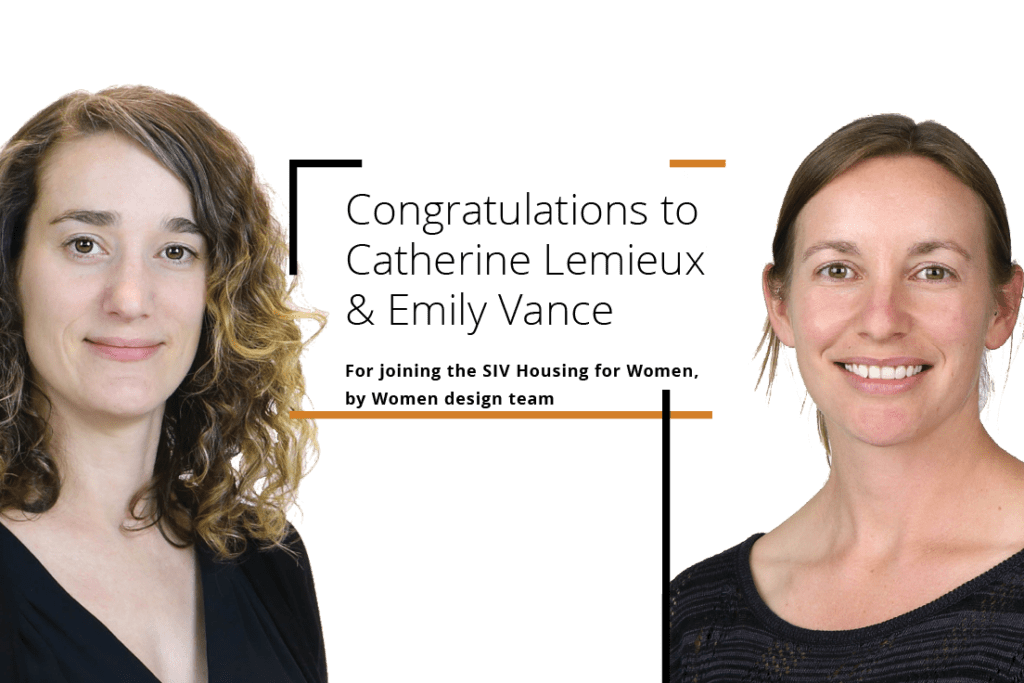 The Project's Impact on Women in Engineering
Across North America, women in engineering are grossly underrepresented. Although progress has been made, further effort is needed to close the inequity gap. The SIV Housing for Women by Women building provides a platform for the team to demonstrate the leadership qualities and technical abilities of women throughout the industry. Perhaps more importantly, the project provides an opportunity for the team to work alongside like-minded professional women, support one another, and freely share ideas.
Up to this point, this unprecedented team is still relatively unknown to the public. But the enthusiasm and excitement shared by the project team and the firms involved are already spilling out to the wider industry and media. The Globe and Mail shared the breakthrough news, highlighting Guerrera's vision in an article published earlier this year. As the positive ripple effects begin to spread around the country, this project will likely have people talking very soon.
The Project's Impact on RDH
With the opportunity this project presents to empower the women on the project and set an example for the rest of the industry, RDH is excited about and determined to use this opportunity to make a difference. Catherine feels like this is the type of project that she will remember for the rest of her career. "It is an opportunity I feel I will always be able to positively look back on," she said. One of her hopes for the project is to normalize all-women project teams. She looks forward to a time when there are enough women in the industry that it becomes common practice. "Hopefully, these types of projects will send a message to women contemplating a career in engineering that there is an opportunity to have a real impact." Another meaningful project underway to support women and their housing needs is the new Elizabeth Fry Society project in New Westminster, BC. Catherine and Emily are pleased to be part of this project team that also has women in prominent leadership roles.
RDH's focus for the SIV Housing for Women by Women building is ensuring that the client is happy with the end product. For over 20 years, we have continued to lead change in making buildings better through the integration of science, design, and construction expertise. As the building enclosure consultant, we have the opportunity to design an energy-efficient and comfortable building for its residents. We are currently immersed in a design phase full of collaboration and ingenuity, and we look forward to providing updates as the project progresses.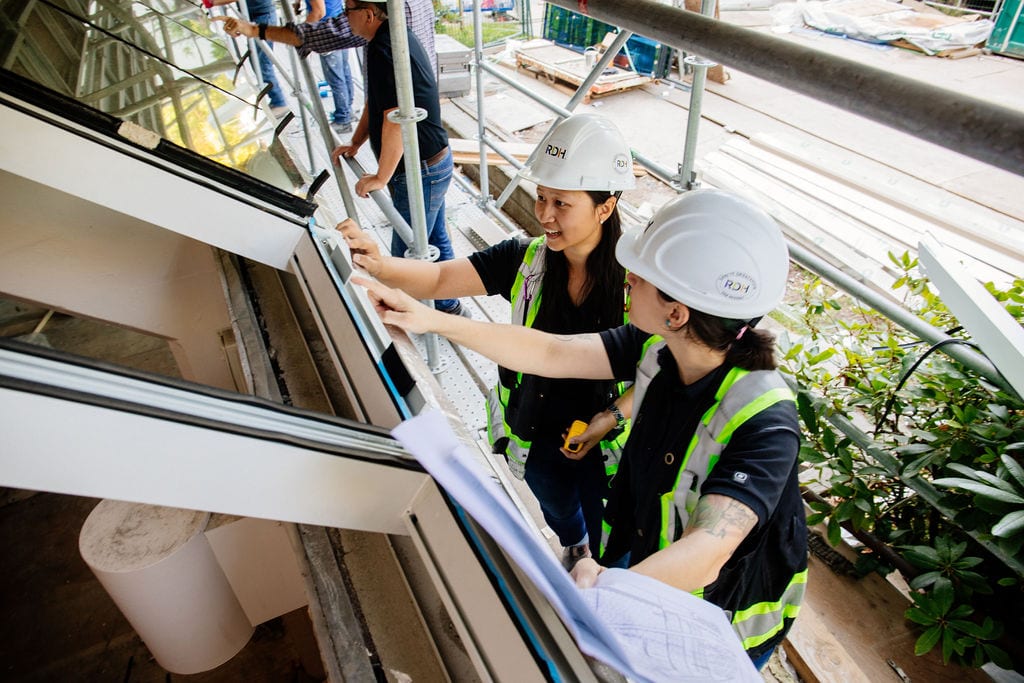 The Project's Contribution to Women in Engineering Day 2021
On June 23, Women in Engineering Day, RDH aims to educate and raise awareness of the issues and inequity women face in the engineering industry and larger workforce. Through this project and other initiatives, we hope to promote empathy and understanding, which strengthens our company. By doing this, we will foster a culture of inclusivity where we create safe spaces and respect for all our employees.
If you would like to learn more about the SIV Housing for Women by Women project, check out Purpose Driven Development's case study.
Our people drive our success. We strive to hire those who are passionate about building science and share our core values. If you are interested in joining a team-oriented workplace with opportunities for professional growth and development, visit our careers page to see our current opportunities.