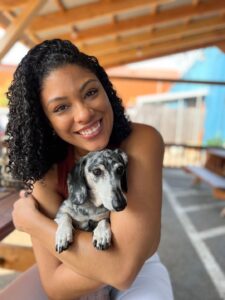 OLIVIA RICHIE
Project Coordinator
Portland, since 2021
Naturally communicative, clear, and responsible, Olivia thrives in administratively complex and client-facing roles. She brings diligence and excellent people skills to her approach to work, allowing her to be a trusted partner among her RDH teammates and external stakeholders alike.
Olivia champions and advocates her colleagues, always embodying her core values of inclusivity and equity across everything she does.
Outside of work, Olivia loves spending time with dogs and exploring the beautiful outdoors that the Pacific Northwest has to offer.
What inspired you to get into AEC?
Some people know what they want to do from a young age. That was not the case for me, and my path to RDH was unconventional at best.
I'm a very type "A" personality and not a creative kind. In high school, I took an aptitude test that asked questions such as: Do you do well with deadlines? Do you like "To Do" lists? Do you like organization? And I thought, yes! Which is how I came to pursue my bachelor's in business administration. Project management became a core skill set of business administration during my schooling, and I decided that was an appropriate niche for my soft skills.
I had a mentor who was in construction. He was an electrician, turned project manager, turned Superintendent. And, so, I thought this was going be the path I was going to take. Directly out of college, I worked as a project assistant and moved to a project manager for a local GC.
What about your job are you passionate about?
I feel like I got placed in the perfect office…like the Harry Potter sorting hat. I got so lucky with Portland.
I found RDH on LinkedIn and it happened to be June, so the logo was a Rainbow Pride flag. It was refreshing to see a company acknowledge and celebrate Pride Month, and even more promising that it was an engineering firm. In many ways, RDH is completely different from where I was before: The community here is inclusive and integral, which have become two values I prioritize both professionally and personally.
Images Left to Right: Olivia at the Portland Waterfront with her dogs, Baxter and Boss and Olivia (left), with RDH colleagues Natalie Michaelis (middle) and Kelly Lamb (right) 
What's a piece of advice that you'd give to your younger self?
I like to joke that there's nothing you could have told the younger me, she had to learn everything the hard way.
Still, I would tell her to stop trying to be everybody else. Try to be yourself. That's what the world needs, more folks being authentically themselves. But when we're so young, it's hard to think about anything other than fitting in.
Who is your unsung hero?
Kelly Lamb, my GL.
I was nervous coming to my interview because I was being interviewed by three women (Kelly, Kathleen, and Natalie) and went in assuming I wouldn't get the job. I thought of it as good interviewing practice! Then once I met the three of them, they were so warm and welcoming, and I immediately felt at home. What was supposed to be a 30-minute interview ended up being 2 hours.
It's incredible to witness Kelly balance so many priorities and personalities and remain cordial, yet pragmatic. She's been with RDH for 18 years, and I believe she embodies RDH's core value of integrity, which I admire very much about her. She just makes me want to be better, work harder, and have fun. I didn't know having such a great rapport with a superior was realistic. I've hit the jackpot. I appreciate being on her team and having her in my corner.
What's something someone has said that empowers you?
"You're never going to be great at something first try."
Nothing happens without effort, and accepting that's part of the process helps us make progress.
—INTERVIEW BY RDH's Talent & culture team FOR 2023 WOMEN'S HISTORY MONTH