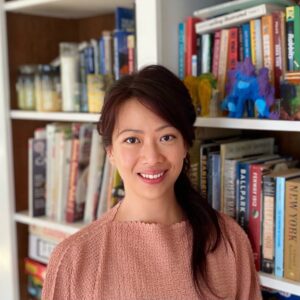 SHU TALUN, B.F.A, MArch
Associate, Senior Façade Consultant
Boston, since 2021
As a Senior Facade Consultant, Shu brings her passion for the mechanics and science within the facade systems to the RDH Boston team. With a Master's of Architecture from Harvard Graduate School of Design and over 14 years of experience, Shu is uniquely adept at helping clients achieve their aesthetic and building performance goals.
What inspired you to get into this field of work?
One of the projects that really inspired me to dive into facade design is 51 Astor Place by Fumihiko Maki. Don't Google it! It's not a photogenic building. It must be experienced in person. From a distance, it's origami-like, a folded shape that morphs into different forms as you walk around the building. But as you approach the façade, you realize that the 'fold' is flat, and the building geometry is a simple trapezoid.
The Design team created this optical illusion with the use of decorative fins and varying glass coatings. It would have been a straightforward unitized curtainwall to construct. There are few new buildings that make you stop and wonder, let alone ones that also consider practical constructible solutions.
I jumped at the opportunity to work for a façade fabricator that designs and builds custom high-end projects to attain an understanding of what levers can be pushed and pulled to bring a design to that next level of magic.
What about your job are you passionate about?
As a Façade consultant, I explore ideas with a design team early in the process to make an impact on the vision (and mitigate problems down the line). That's extremely satisfying.
I'm looking forward to developing my depth of knowledge around the myriad of enclosure systems through our integrated approach to building enclosures.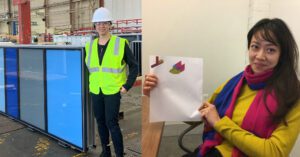 Images Left to Right: Shu reviewing a custom curtainwall unit while she was the Design Lead at her past firm and Shu working with synchronized colors with custom extrusions. 
What's a piece of advice that you'd give to your younger self?
We might not always have a choice in our external circumstances, but we do have a choice about how we feel about a situation.
Sometimes, making a choice in the moment to do something different is all it takes to turn anxiety into a positive outlook.
Who is your unsung hero?
The many unnamed Engineers, Architects, Fabricators, and Builders who show up and do the best that they can in the most humane way possible. The most impactful people are the ones who meet differing perspectives with an open mind and can navigate difficult situations with humility and empathy.
Is there a mentality that speaks to you?
The advice comes from my first job in an architecture firm which was a very hands-on design experience, working with contractors and window manufacturers.
It is to envision myself experiencing and inhabiting a space I'm designing throughout the entire design process. When it comes to designing wall systems and details, imagine how the components are installed. Innovative designs are usually ones that see architecture through both the user's and builders' lenses.
I believe it is fundamental to keep design oriented to the human experience, no matter what stage of the process you are interfacing with.
Dreams and hopes for women in AEC?
In the last decade, I've worked on teams that are increasingly represented by talented and effective women. I've also seen a shift in shared household responsibilities and company policies that allow for better work-life management. Some sectors are more developed than others and I hope that the active elevation and amplification of women continue to be normalized throughout the industry.
—INTERVIEW BY RDH's Talent & culture team FOR 2023 WOMEN'S HISTORY MONTH