Preventing water infiltration requires knowledge of material properties, compatibility, and installation techniques. Establishing and verifying such techniques is a key step in achieving the intended product performance.
Dörken Systems Inc., formerly Cosella-Dörken, specializes in developing high-performance air and moisture barriers. RDH assisted Dörken in determining best practices for rough opening preparation and installation of windows using their DELTA® product line, taking a multi-pronged approach that included material and assembly testing along with the development of common details to support the creation of practical instructional resources.
Results from laboratory and field exposure testing confirmed material compatibility within the product line and informed the development of several alternate rough opening preparation details. Alternate configurations included flanged and non-flanged windows, pre-strip versus cut-out installation, and four sill conditions (a flat sill, a sloped sill, a backdam, and a design using DELTA® corner-reinforcing products). A mock-up of each detail was assembled and documented. Once the windows were installed, air and watertightness testing was conducted at RDH's window testing facility.
Upon successful completion of the tests, the team at RDH created 3-D models of the details to illustrate the step-by-step installation process. Finally, we provided hands-on training to Dörken technical and sales staff to ensure they were prepared to discuss the best practice techniques that were determined.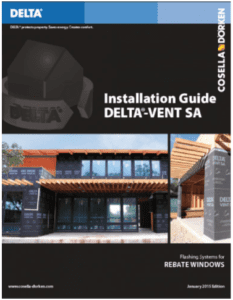 The end result of RDH's approach included not only testing results, but multiple how-to videos, two builder installation guides, and hands-on training to ensure that product information was translated into practical guidance.
WATCH:
READ:
Share This Post