RDH is thrilled to announce our newest Principals and Associates. Please join us in congratulating them for their leadership, hard work, and dedication to RDH.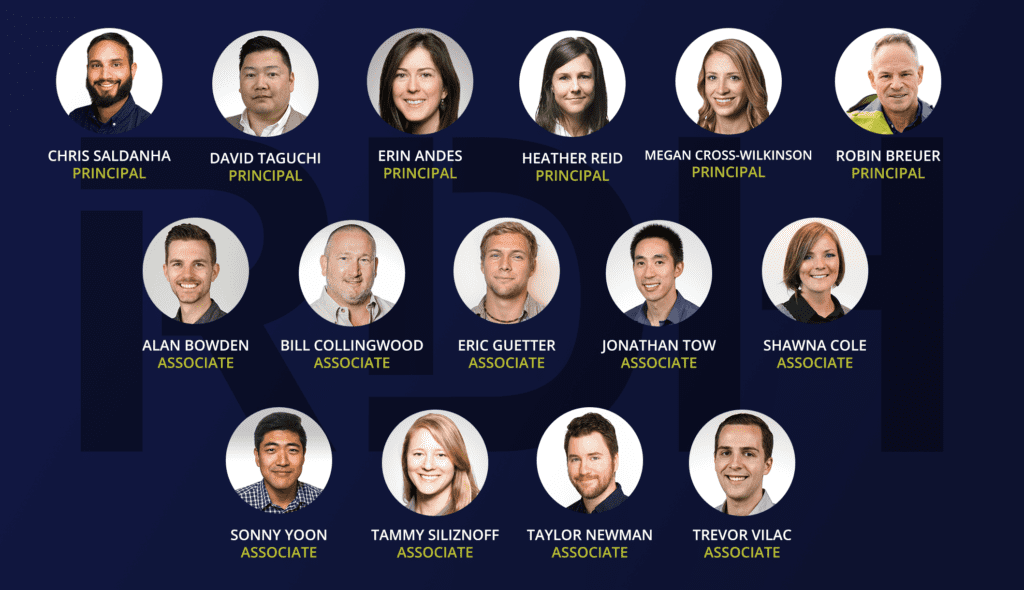 To learn more about our new Principals and Associates, please continue reading. 
Chris Saldanha |
PE
Principal, Building Science Specialist 
Chris is a licensed Professional Engineer in the State of Washington and has worked in the field of building enclosure consulting for thirteen years, focusing condition assessments, forensic investigations, and rehabilitation design of building enclosure assemblies for various building types and climate conditions. As a Building Science Specialist, Chris leads teams of engineers and technologists to provide a range of engineering services.
Chris has carried out dozens of building enclosure condition assessments including high-rise, low-rise, commercial, institutional, and residential building types.
On rehabilitation projects, Chris leads the design efforts and oversees production of construction documents for permitting and contractor pricing, coordinates bidding, performs construction administration, field reviews and ensures that construction is undertaken in conformance with the contract documents. As an experienced project manager, Chris is continually forming collaborative and effective relationships with clients, contractors and his colleagues.
Chris has led investigation efforts and provided litigation support on numerous construction defect claims.
In addition to his rehabilitation project contributions, Chris also performs design review, construction administration, and field review for new construction projects, as well as leak investigations and failure analysis of building enclosure assemblies and products.
David Taguchi |
P.L.Eng. (BC), P.Tech.(Eng.)(AB), RRO
Principal, Building Science Specialist
David has extensive experience with a variety of building enclosure systems and assemblies, including walls and cladding, windows and curtainwall, as well as above- and below-grade waterproofing. He is familiar with various types of buildings, including multi-family residential, high- end single-family, institutional (public schools, universities), federal, high-rise commercial, and historic buildings.
As a Building Science Specialist, David leads teams of engineers and technologists to provide a range of engineering services including building enclosure investigations and assessments, and 3R engineering services.As a Professional Licensee Engineering (P.L.Eng.) with Engineers and Geoscientists of British Columbia (EGBC) and Professional Technologist (Engineering) [P.Tech.(Eng.)] with The Association of Science and Engineering Technology Professionals of Alberta (ASET), David is able to practice as a Registered Professional in the specific scope of building enclosure engineering. Refer to a copy of David's specific scope of work here.
In previous employment, David has worked at building science firms in British Columbia and Alberta. As a Senior Project and Branch Manager, he opened, developed, and established the Calgary branch of another building science firm. David provided service proposals for various types of projects and building services, as well as project management and construction contract administration.
Erin Andes |
M.S.,
PE (CA), LEED® AP
Principal, Senior Project Manager
Erin's primary role at RDH involves managing projects and making building science recommendations to clients on both new construction and existing building projects. While the majority of her work is local to her practice in the SF Bay Area, Erin has experience designing enclosures in a variety of climates from the snowy mountains of Montana to the tropical islands of the South Pacific.  Erin's versatility allows her to work on a wide range of projects from affordable housing rehabilitation projects to institutional buildings with complex geometry and emerging technology. 
She uses her breadth of experience in building science, structural engineering, and construction administration to effectively communicate technical content to non-technical audiences and has presented many of her published works at conferences across North America.   
Heather Reid |
P.Eng.
Principal, Senior Project Engineer
Heather has been a consultant in the building industry for 18 years, the latter seven at RDH as a building science specialist. As a licensed professional engineer, she currently oversees all aspects of repair, renewal, and rehabilitation of existing buildings, with a focus on deep retrofit projects. She also contributes to technical committees within RDH and supports litigation and forensic projects. Heather utilizes her strong leadership skills as the Group Leader of a diverse group of technical staff.
Heather is also one of RDH's façade access specialists, leveraging her past experience as a façade access consultant in the US. She is proficient in codes and standards that apply to exterior building maintenance equipment and systems and has worked on hundreds of projects in a multitude of applications.
Heather is a current board member of the BC Building Envelope Council (BCBEC).
Megan Cross-Wilkinson | PE (WA)

Principal, Building Science Consultant
Megan has over 10 years of work experience in the building science industry on existing buildings, forensic/litigation, and new construction projects. Her past projects include significant wall, glazing, roof, balcony and below-grade rehabilitation and new construction for residential, commercial, biomedical, and institutional clients. Megan regularly performs curtain wall, window, and glass factory review visits for both new construction and existing window retrofit projects domestically and overseas. She has worked on the exterior rehabilitation of historic buildings and has performed forensic investigation of failures of glazing and façade systems.
While based out of the San Francisco Bay Area, she has worked on construction projects in a variety of other geographical locations, including Southern and Central California, Hawaii, Idaho, Michigan, and British Columbia and Ontario, Canada. She is a licensed Professional Engineer in the state of Washington and is the past President of the Northern California Chapter of the International Institute of Building Envelope Consultants (IIBEC).
Robin Breuer |
AScT, RRO
Principal, Senior Project Manager
Robin has accumulated extensive experience with a diverse range of enclosure assemblies including roofing, waterproofing, curtain wall, window wall, stone, metal, EIFS, and stucco over his 20 years in the building science industry. Robin's technical skills, combined with his ability to communicate with clients and contractors, have made him an effective project manager.
In addition to his work in new construction, Robin has developed remedial solutions for water ingress problems in a variety of existing high-rise and low-rise buildings with many different cladding and roof types.
Robin works across many of RDH's core service areas including new construction, existing buildings, maintenance and planning and forensics.
In addition to managing the day-to-day operations of the Courtenay office, Robin plays a significant roll in developing our Vancouver Island technical staff.
Alan Bowden |
P.Eng.
Associate, Building Science Engineer
Alan has over 7 years full-time work experience in the building enclosure consulting industry for both existing and new construction projects. Today Alan is primarily involved with new construction projects and his work generally includes both design review prior to construction and field review during construction. Alan's new construction projects range from high-rise wood towers to multi-building mall redevelopments and prefabricated modular construction.
Alan's responsibilities in the field include the review of all enclosure assemblies such as below grade waterproofing and roofing systems, as well as unitized curtain wall and prefabricated walls factory production. In addition to field review, he leads field commissioning testing such as water penetration testing, air leakage testing, thermal imaging reviews, and performance mock-up testing.
Additionally, Alan has assisted the research group with product and material testing, as well as building enclosure rehabilitation projects though all stages including: investigation, design development, and field review.
Bill Collingwood |
EIT
Associate, Project Consultant 
Bill has over 20 years of experience in the engineering and construction industry. He applies his industry experience and expertise to a variety of new construction projects including university and hospital campuses, multi-use high-rise structures on the Portland Waterfront, and wood-framed residential projects in the Pacific Northwest as well as many along the Oregon Coast.
Over his career, he has performed detailing of various complex assemblies such as unitized and stick-built curtain wall, window wall, metal panel, precast, and masonry veneers. His responsibilities in the field include review and assessment of all enclosure assemblies, such as below-grade waterproofing, window and wall cladding assemblies, waterproof deck and balcony membranes, and roofing membranes.
Bill has taken a lead role in condition assessment and investigation work, orchestrating and managing all aspects of field work. On the ground, he leads contractors and other RDH staff in collection of information through destructive and non-destructive efforts.
Since joining RDH in the Portland office in 2005, Bill's mechanical engineering and building science background has been a valuable in-house resource, as he has contributed his HVAC and energy expertise to RDH projects.
Eric Guetter |
P.E.
Associate, Building Science Engineer
Eric is a Project Engineer with a background in civil engineering. His primary focus is on providing building enclosure consulting for existing buildings and new construction projects. Eric specializes in façade consulting, including curtain wall and window wall, GFRC and architectural precast, and prefabricated steel stud walls with a variety of claddings.
Eric's typical responsibilities include design assist, construction field review, and construction administration services for the building enclosure components of new construction projects. Eric works closely with the rest of the RDH team to provide building science recommendations and consulting services.
Jonathan Tow |
P.Eng.
Associate, Façade Structural Engineer
Jonathan's primary responsibilities include providing structural analysis for a variety of facade systems including glazing and cladding assemblies. He is experienced designing window wall, curtain wall, and point-supported glazing systems in Canada and the US.
His technical abilities also extend to analysis of facades with complex geometry including curved glass and perforated aluminum panels with the use of finite element analysis and computer modelling.
Along with his technical ability, Jonathan also supports the team as a project manger. He regularly performs site visits, develops schedules, and communicates with clients.
Before joining RDH in 2018, Jonathan worked for a point-supported glazing hardware manufacturer gaining experience on a wide range of projects including mass light rail transit systems.
Shawna Cole

Associate, Learning and Development Manager
As RDH's Learning and Development Manager, Shawna Cole actively contributes to a productive and satisfying learning environment for RDH employees.
Shawna is responsible for the design, development and implementation of various employee learning and development programs that align with RDH's corporate strategic goals and operational requirements. She supports the ongoing development needs of the organization and its employees through the tracking and evaluation of learning progress, the assessment of knowledge and skills gaps, and the provision of coaching and additional training interventions.
She excels at identifying the current and future skills requirements, championing change, and creating flexible learning interventions (through digital and other means) to meet the diverse needs of the workforce.
In addition, Shawna teaches Canadian Business Management at Vancouver Community College. She has written two textbooks and is working on a third with Pearson ELT. She is also currently completing her Master's in Educational Leadership.
Sonny Yoon |
P.Eng.
Associate, Building Science Engineer 
Sonny is a Building Science Engineer with a specialization in façade engineering. His expertise includes a wide variety of fenestration and façade systems, including window wall, curtainwall, and a wide range of cladding arrangements. Sonny particularly enjoys working with and developing façade designs to optimize the cost and performance to meet the project needs. This product development work includes assisting both domestic and offshore manufacturers and suppliers.
Sonny's typical responsibilities include enclosure design and specification review, submittal review, quality assurance review at manufacturing facilities, and performance mock-up install and testing review. Sonny reviews all building enclosure-related assemblies on sites, such as below-grade walls, above-grade walls, window walls, curtain walls, and roofing assemblies and leads filed testing.
In addition to new construction projects, Sonny has a wide range of experience working on existing buildings. His involvement includes documenting original building enclosure conditions, determining water leakage paths, typically including field water testing, and collecting evidence for expert opinion reports.
Tammy Siliznoff

Associate, Senior Project Manager
Tammy has ten years of professional experience as a project manager and engineer including investigation, design and construction administration of existing building envelopes and historic structures. Her experience in new construction includes modular construction and mass timber construction along with other traditional building types.
In previous employment, Tammy provided litigation support services for projects within the San Francisco Bay area through investigative fieldwork. She joined the Oakland RDH office in January 2015, and her experience in the field, coupled with her background in Civil Engineering Project Management and Materials Science, is a great asset to RDH.
Taylor Newman

Associate, Intern Architect
Taylor's background in architecture and his passion for technology resources put him at the forefront of RDH graphics production, and he has provided contract administration services for new construction and rehabilitation projects. His graphics work includes drafting, modeling, rendering, and layout work for RDH publications. 
For existing buildings, Taylor has worked with clients and contractors to develop and coordinate full building enclosure detail sets, façade materials schedules, and materials takeoffs for cost estimates. 
On new construction projects, he has worked with architectural design teams to develop and refine building enclosure details and constructability studies and to review submittals construction. 
Taylor's field review work has included drafting in collaboration with design teams, review of submittals construction, construction phase services and field review of below-grade waterproofing, building enclosure installation at tilt-up construction, and ongoing single-ply roof installation review as well as field review of window installations at punched openings and monolithic hot rubber waterproofing. 
Trevor Vilac |
Intern Architect AIBC
Associate, Intern Architect (IA) 
Trevor's involvement at RDH includes project management, building enclosure assessments, construction document preparation, construction field review, and heritage conservation.
In his role as an Intern Architect (IA), Trevor coordinates with building owners, contractors, RDH staff and manufacturer representatives. Trevor is familiar with construction document preparation and will manage the preparation of drawings and technical specifications. Trevor is also familiar with construction field review and will attend construction sites to review in-progress work and meet with contractors. Trevor is responsible for reviewing contractor submittals, supplementary instructions and other project administrative tasks.
Trevor joined RDH in 2013. He has a fundamental awareness of building science theory from his BCIT education in addition to practical experience. Trevor rejoined RDH in 2020 after a leave of absence to pursue a Master of Architecture at the University of British Columbia.