RDH is thrilled to announce our newest Principals and Associates. Please join us in congratulating them for their leadership, hard work, and dedication to RDH.
To learn more about our new Principals and Associates, please continue reading.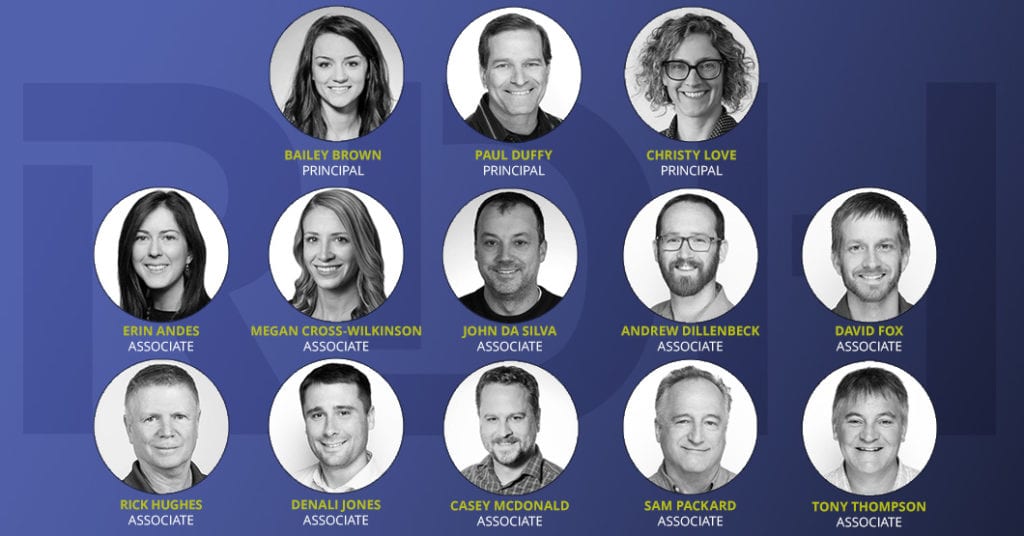 Bailey Brown | MS, PE (WA)
Principal, Building Science Specialist
Bailey is a Building Science Specialist who is recognized for her ability to communicate industry best practices as well as her ingenuity to apply these practices to buildings throughout the Northwest.
As an author of various leading guides and bulletins, Bailey communicates technical topics to a range of audiences. She has both authored and contributed to numerous industry publications across the United States. One example of her work is the recently published Masonry Systems Guide: Northwest Edition.
Bailey also consults on the design and constructability of New Buildings projects. She regularly performs thermal and hygrothermal analyses of building enclosure systems and advises on energy code compliance and design throughout various project phases.
Bailey serves as the leader of our Technical Communications team, where she provides guidance and coaching to a number of design and technical staff.
Paul Duffy | B.Sc.
Principal, Senior Project Manager
Paul has a proven track record during his time directing RDH's construction management operations in both Seattle and Portland.
He takes a client-first approach that allows him to build positive relationships with building owners and project stakeholders. His responsibilities usually span a project's entire scope, including managing permitting and entitlements, estimating and reviewing drawings, and evaluating details for constructability.
As a veteran of the construction industry in the Northwest, Paul has built a reputation for selecting and leading design and construction teams to produce projects that meet client expectations and maintain their budgets.
Paul is also a member of the Seattle Building Enclosure Council and the Past Chair of the City of Kirkland Design Review Board.
Christy Love | P.Eng., CPHC
Principal, Vancouver Island Regional Manager, Senior Project Engineer
Christy provides leadership and guidance as the Vancouver Island Regional Manager, overseeing staff in both the Victoria and Courtenay offices.
Christy's role as a Senior Project Engineer has her exploring and implementing energy- and water-efficient mechanical systems as well as emphasizing the importance of sustainable buildings. She has completed analyses for a range of energy and water conservation projects and researched innovative system design strategies.
In addition to sharing her broad understanding of strategies to improve a building's performance, Christy brings strong project management and clear communication to her client relationships. She particularly enjoys helping her clients fully understand the financial, functional, and environmental compromises of a range of design strategies, enabling them to make informed choices.
She has conducted numerous research projects for both government and industry associations, including the costing study "Cost-Benefit Analysis of Super-Efficient New Buildings" for BC Hydro.
Erin Andes | MS, PE (CA), LEED® AP
Associate, Senior Project Manager
Erin is a Professional Engineer who specializes in building enclosure consulting on new construction and rehabilitation projects.  She collaborates with developers, building owners, architects, and contractors to achieve durable, watertight, and energy-efficient building enclosures.
Erin uses her breadth of experience in building science, structural engineering, and construction administration to effectively communicate technical content to non-technical audiences, and she has presented many of her published works at conferences across North America.
Erin has also provided investigation and litigation support services on dozens of projects throughout the western US. Investigating these failures gives her a great perspective on what to avoid in new construction and repairs.
She holds a master's degree in civil engineering from Georgia Institute of Technology and is a member of the US Green Building Council (USGBC) and Association for Preservation Technology International (APT).
Megan Cross-Wilkinson | B.A.Sc.
Associate, Building Science Consultant
As a Project Manager and Building Science Consultant, Megan has 8 years of experience in the building science industry working on both existing buildings and new construction. Her expertise includes consulting on historic building preservation, mass timber construction, and façade engineering for unitized curtain wall.
Megan is experienced in design development, preparation of construction documents, construction field review, and contract administration. She has conducted numerous building enclosure assessments and several forensic and litigation investigations. Her project practice ranges geographically from California to both eastern and western Canada. She has performed factory inspections for vinyl window, unitized curtain wall, and insulated glass unit (IGU) production at manufacturers in North America, Europe, and Asia.
Megan is the President of the Northern California Chapter of the International Institute of Building Envelope Consultants (IIBEC) and a member of the Association of Professional Engineers and Geoscientists in British Columbia. She holds a BASc in Honours Environmental Engineering from the University of Waterloo (Canada).
John Da Silva | Dipl.T.
Associate, Project Superintendent
As a Project Superintendent with 30 years' experience in the construction industry, John brings a wealth of expertise and knowledge to RDH's Construction Project Management team. His focus is on coordinating and supervising trade contractors on the behalf of owners for building enclosure rehabilitation projects throughout the BC Lower Mainland.
On-site, John ensures that quality and warranty standards are met while he  facilitates communication between the trades, management team, and owners. He has experience working on numerous types of building enclosure systems, including masonry, rainscreen stucco, exterior insulation and finish system, metal panel, exposed concrete, metal roofing, sheet-applied roofing, urethane coatings, and many glazing systems.
John is also responsible for the overall organization of the construction site and the on-site safety of workers in recognition of Workers' Compensation Board requirements.

Andrew Dillenbeck | PE (WA, VA)
Associate, Senior Project Manager
Andrew is an industry leader on the design and constructability of high-rise building enclosures in new construction. As a Senior Project Manager, he has consulted on numerous types of buildings, including unitized and stick-built curtain walls, window walls, metal panels, masonry, and more. In addition to managing the construction phase on new construction projects, he plays a role in the design, development, and review of construction documents and provides building performance recommendations to design teams. Andrew has traveled domestically and internationally to review unitized glazing facilities to assist in the performance testing of new and custom enclosure systems.
David W. Fox | PE (WA), CPHC
Associate, Senior Project Manager
David is a Senior Project Manager who contributes to RDH's New Buildings, Existing Buildings, and Energy & Sustainability practice areas across the US and beyond.
As a proponent of energy efficient and sustainable design, David works closely with architects to apply these design elements to all of the projects he works on. He regularly performs thermal and hygrothermal analyses on both new and existing building projects, and he helps identify practical solutions to unique problems.
David has more than 12 years of experience in the building science industry on projects located in multiple climates, from the west coast of North America to New England. He was awarded the Certified Passive House Consultant (CPHC) designation in January 2020.
Rick Hughes
Associate, Site Superintendent
With over 30 years of experience as a site superintendent, Rick has been a key leader in the coordination of projects sites all over the BC Lower Mainland. His main focus is on the supervision of trade contractors on project sites, quality assurance and design conformity, on-site safety coordination, and project planning and scheduling. Working closely with the construction management team at RDH, Rick coordinates and facilitates communication between the trades, RDH staff, and owners. Rick has been a site superintendent on a variety of buildings, including high-rise towers and large-scale residences, throughout the Lower Mainland.
Denali Jones | B.A.SC., PE (WA)
Associate, Senior Project Engineer
As a Senior Project Engineer, Denali focuses on New Buildings projects. He works closely with design and construction teams to help identify key performance issues early and provide practical solutions to building enclosure challenges.
Regarded as an industry leader in air leakage testing, Denali has extensive experience conducting whole-building air leakage testing on large buildings and has led numerous training seminars throughout North America. He works closely with code officials to develop and improve air leakage testing procedures and has contributed to several national air leakage testing protocols and standards. He also supports air leakage testing efforts throughout all RDH offices.
Previous to his role with RDH, Denali worked for a building diagnostic tools manufacturer in Vancouver, BC. He helped shape new product design and development and performed large building air leakage testing, conducted training sessions, and provided technical support for air leakage testers worldwide.
Casey McDonald | BS
Associate, Project Consultant
As a Project Consultant, Casey takes pride in sharing his knowledge of various glazing and enclosure systems with architects, developers, and contractors. He has contributed to several recent leading developments in Portland, Oregon, including Adidas N.A. Headquarters and the 250 Taylor office building.
Casey's wide-ranging experience includes 10 years as a design team leader for a high-end custom glazing and façade manufacturer and holds multiple positions on the National Fenestration Ratings Council. He is often called on to review complicated design elements for projects that incorporate unique cladding and fenestration systems.
Casey has consulted on several mass timber projects, providing invaluable guidance for moisture management of cross laminated timber assemblies. He was significantly involved in the design and construction of Carbon12, currently the tallest wood building in the US.
As an avid researcher and presenter, he provides comprehensive coverage of topics such as building energy code compliance, hygrothermal analysis, and building science fundamentals.
Sam Packard | Registered Architect (WA, CA, NY)
Associate, Senior Project Manager
Sam is a Registered Architect with over 30 years of experience in the building industry.
His areas of expertise include both New Buildings and Existing Buildings, with a focus on design, construction administration, and project management for projects ranging from high-rise residences to low-rise educational buildings.
On Existing Buildings projects, Sam has worked on building enclosure rehabilitations and condition assessments, and he has produced as well as reviewed the in-house preparation of project specifications and drawings. On New Buildings projects, he has reviewed architectural drawings and specification packages for building materials and constructability.
Tony Thompson
Associate, Senior Project Consultant
With over 25 years of experience in the building industry, Tony Thompson is an industry leader in new construction design team coordination and construction management for commercial, institutional, and large multi-use residential projects. Tony is a Level 1 Infrared Professional Thermographer and is heavily involved in the coordination of whole-building air leakage testing in large buildings. Prior to joining RDH in 2011, Tony worked on building airtightness requirements and building air leakage protocols for the US Army Corps of Engineers.
Congratulations to all our new Principals and Associates! On behalf of our leadership team, we look forward to continuing to help our clients Make Buildings Better in 2020 and beyond.