A full day of learning at the Seattle Mass Timber Enclosure Symposium
At RDH, we believe that sharing our knowledge with the industry provides an opportunity to make all buildings better, not just those we directly support. As such, we have an entire team dedicated to providing the industry with opportunities to learn through various presentations, trainings, and publications.
In support of this dedication, on February 11, 2020, we hosted our first full-day symposium in Seattle, WA, to share our knowledge on mass timber building enclosure design and moisture management strategies.
We welcomed about 180 professionals, including architects, engineers, construction professionals, and developers, to a renovated historic ice distribution facility called Block 41 that is appropriately constructed of mass timber.
Specialists from both RDH and the building industry spoke at the symposium. They explored many topics relevant to the design and construction of mass timber enclosures in the US and Canada with a focus on opportunities to manage risk and increase the long-term durability of the mass timber enclosure.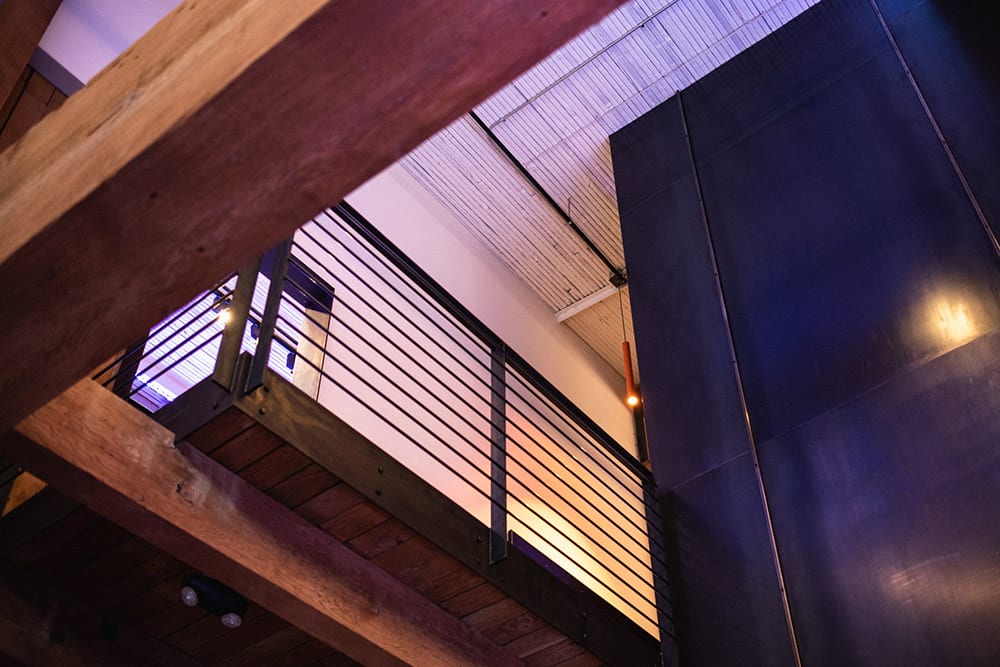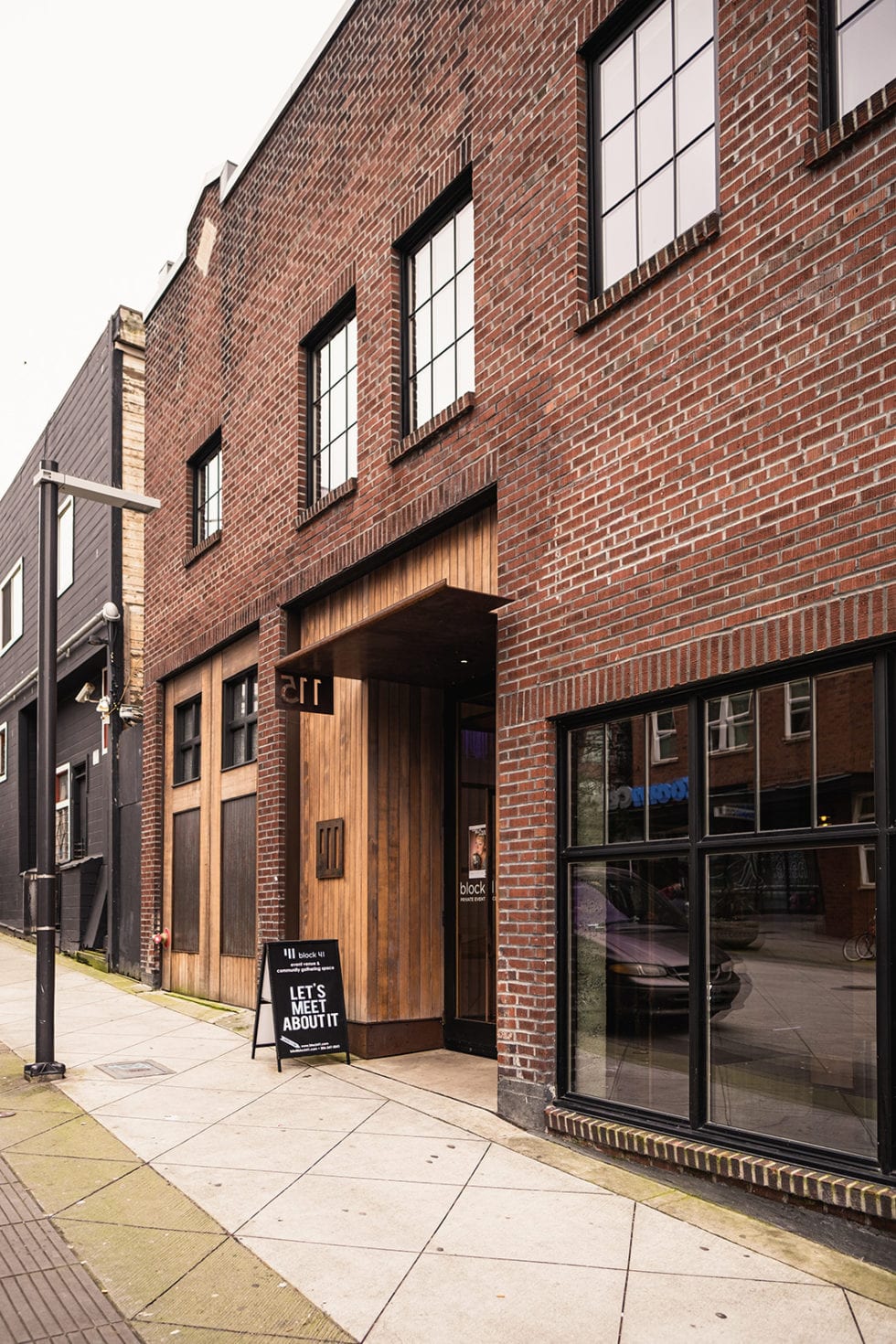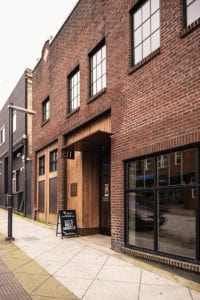 Block 41, a renovated historic ice distribution facility in Seattle, WA, was the venue for Mass Timber Enclosure Symposium.
Morning presentations
RDH Principal Kyle Silliker kicked off the day by explaining why we share RDH's knowledge and why mass timber is important enough to devote an entire day to the topic.
Ted Panton (GGLO) and Chris Duvall (Coughlin Porter Lundeen) provided the latest updates from the AIA Seattle Mass Timber Committee. RDH Principal Colin Shane provided some background information on the various types of mass timber enclosure assemblies and outlined basic design principles for using them.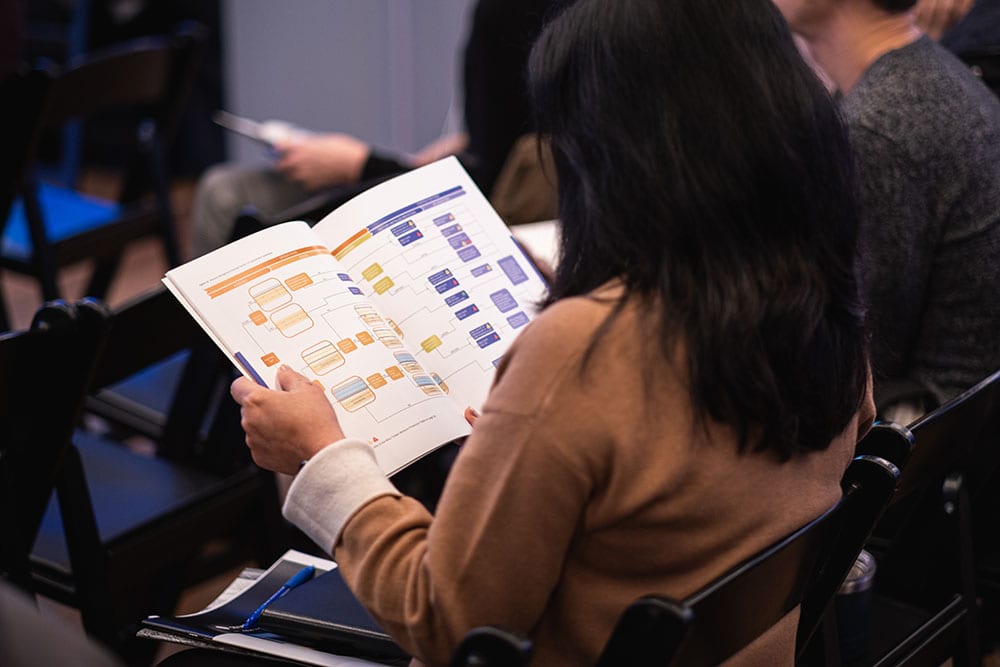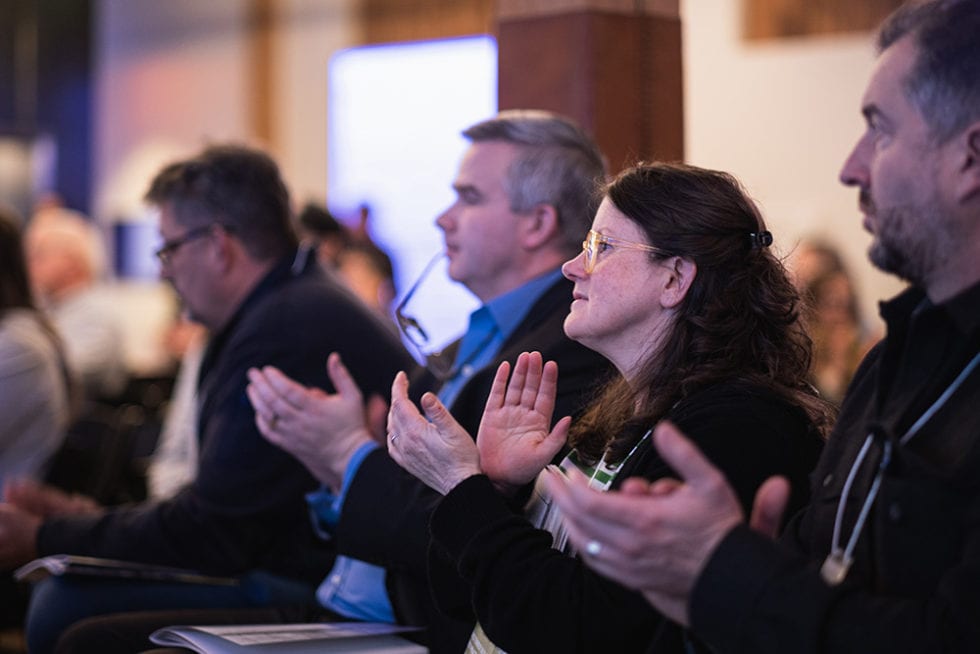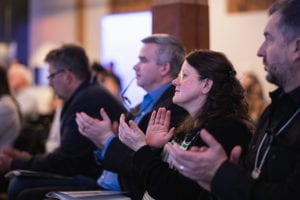 Audience at the Mass Timber Enclosure Symposium.
After a brief coffee break, the audience heard from RDH Principal Brian Hubbs, who discussed mass timber and panelization. He mentioned that concepts such as "curtainwood" and prefab passive house mass timber panels are starting to gain traction and could be the next big thing.
Joe Mayo (Mahlum Architects) lent his expertise about how we actually use mass timber in his presentation "Mass Timber in Practice." He discussed how architecture, structure, services, and moisture protection have been implemented on several completed projects using mass timber in wall, roof, and floor applications.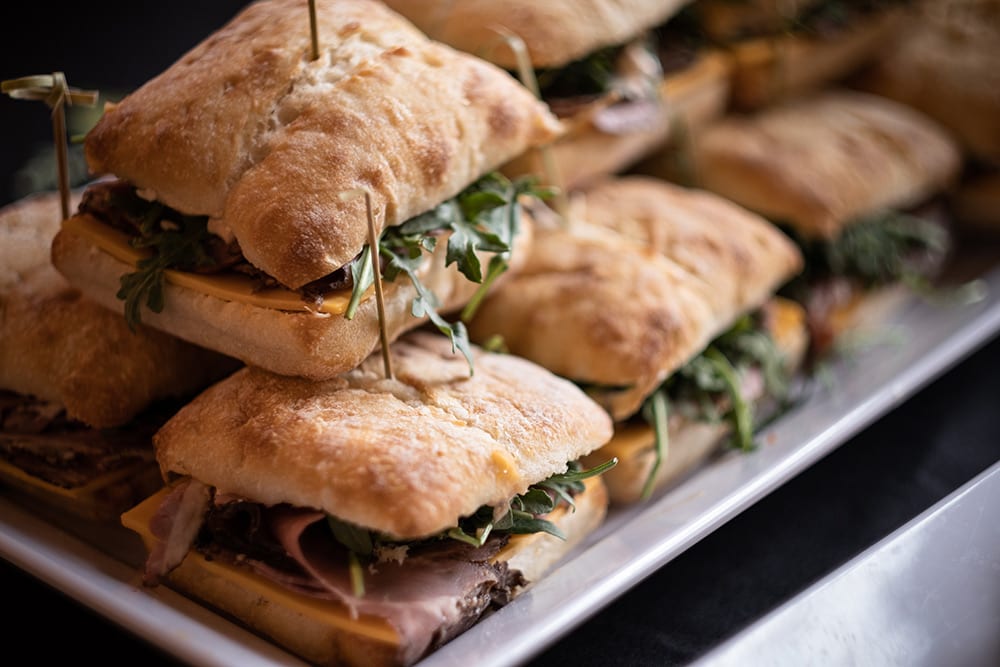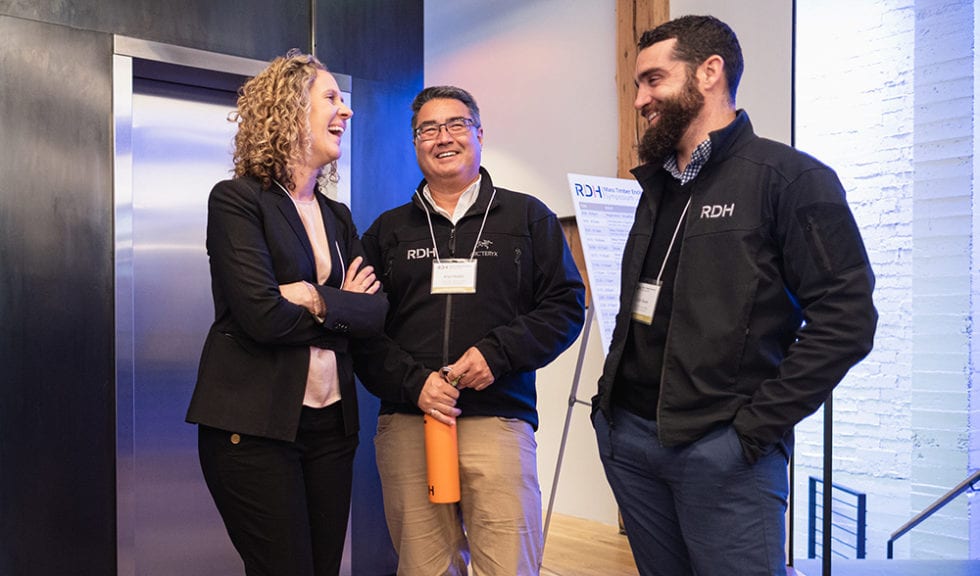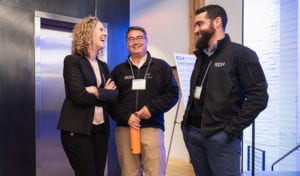 Above right: Lisa Podesto, Brian Hubbs, and Colin Shane networking at the event.
Afternoon presentations
Lisa Podesto (Lendlease) presented on the economics of mass timber construction and posed this question: Is it feasible? She identified four specific market/project conditions that mass timber can address: high labor costs, labor shortage, schedule constraints, and poor soil conditions.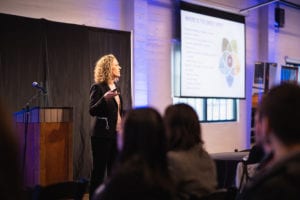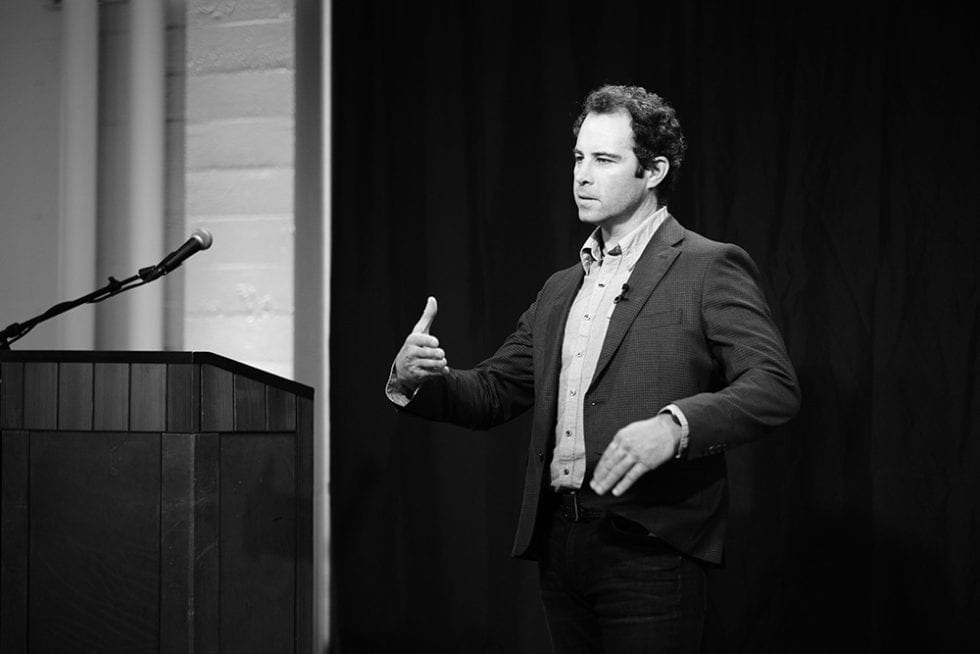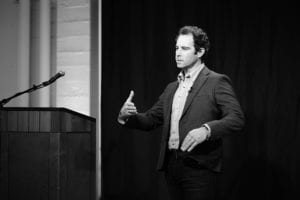 Left: Lisa Podesto, Right: Bevan Jones
Bevan Jones (Holmes Fire) then took the stage to introduce fire considerations and general code provisions concerning mass timber buildings. He also outlined specific building aspects that may need early attention in the design phase because they relate to building authority coordination, testing, engineering judgement, and performance-based design.
The construction phase of any mass timber construction poses unique challenges. RDH Principal Graham Finch explored some of the challenges that RDH has seen on previous projects and how we resolved them.
The last presentation of the day was by Nate Bergen (Kinsol Timber Systems), who spoke on his experiences with mass timber prefabrication and construction methods in his presentation "Constructability Lessons Learned."
RDH Principal Michael Kramer wrapped up the day by moderating a panel discussion between several of the day's speakers and a keen crowd full of questions.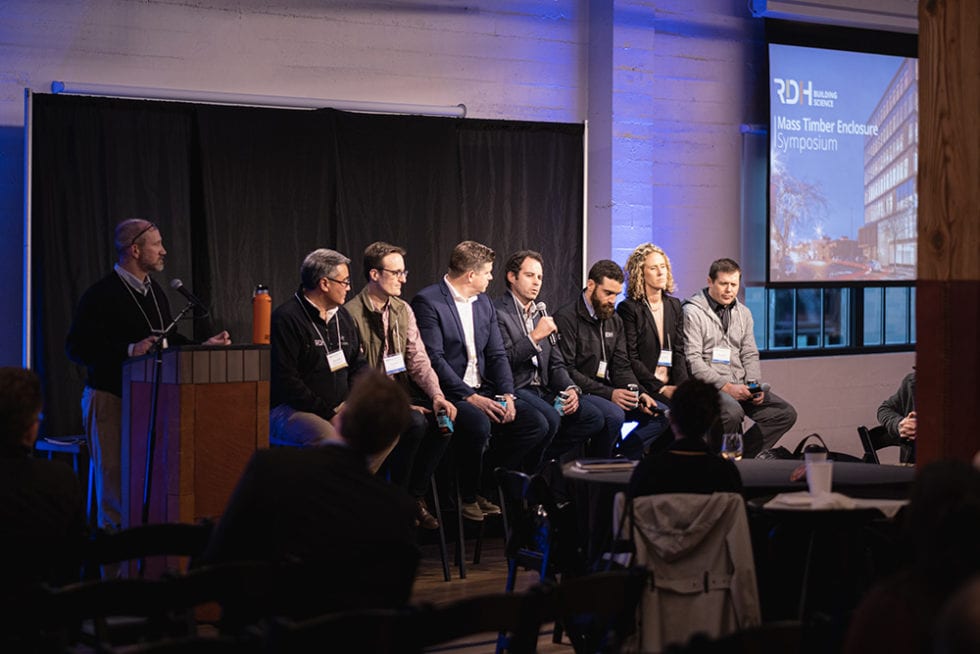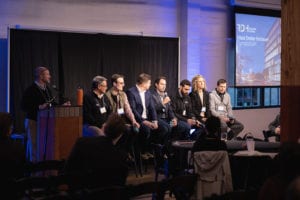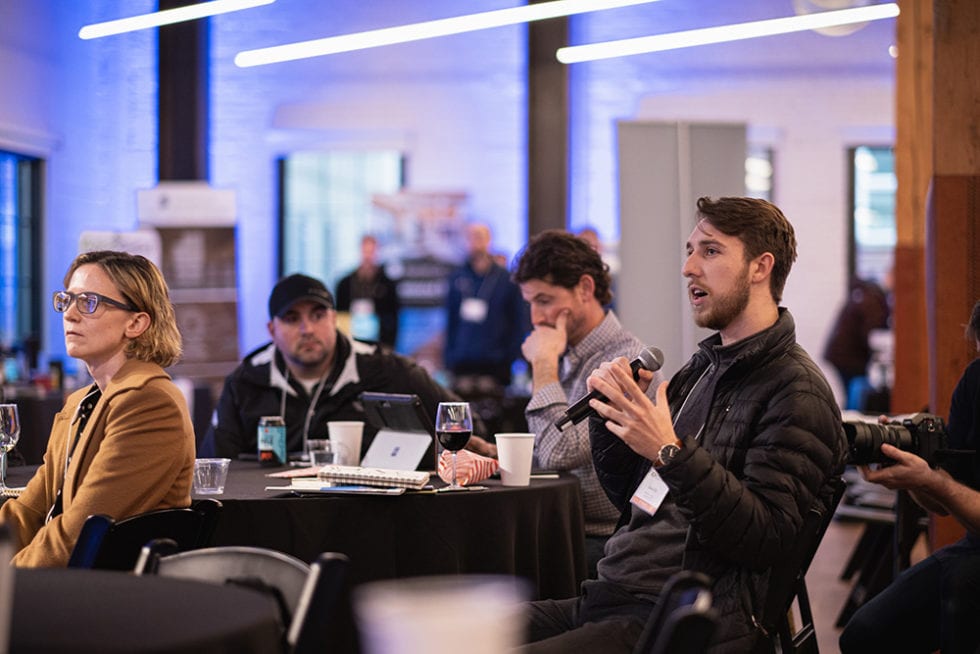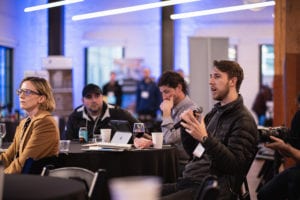 Audience members and the panel of speakers participated in a discussion on mass timber.
The symposium was a huge success thanks to our speakers, exhibitors, RDH staff, and of course the attendees. We hope everyone brought practical information back to their teams and valuable tips to apply to their work.
Resources coming soon – sign up to be notified
In conjunction with the symposium, RDH authored and published two guides that were included with each ticket: Mass Timber Building Enclosure Best Practice Design Guide and Moisture Risk Management Strategies for Mass Timber Buildings. In addition, several of the presentations throughout the day were recorded.
Soon we'll be offering these guides and recorded video presentations online for purchase—follow us on LinkedIn and Twitter to stay in the loop about their release, or sign up to be notified via email.
Fill out the form below and check the box to consent to receiving an email notification.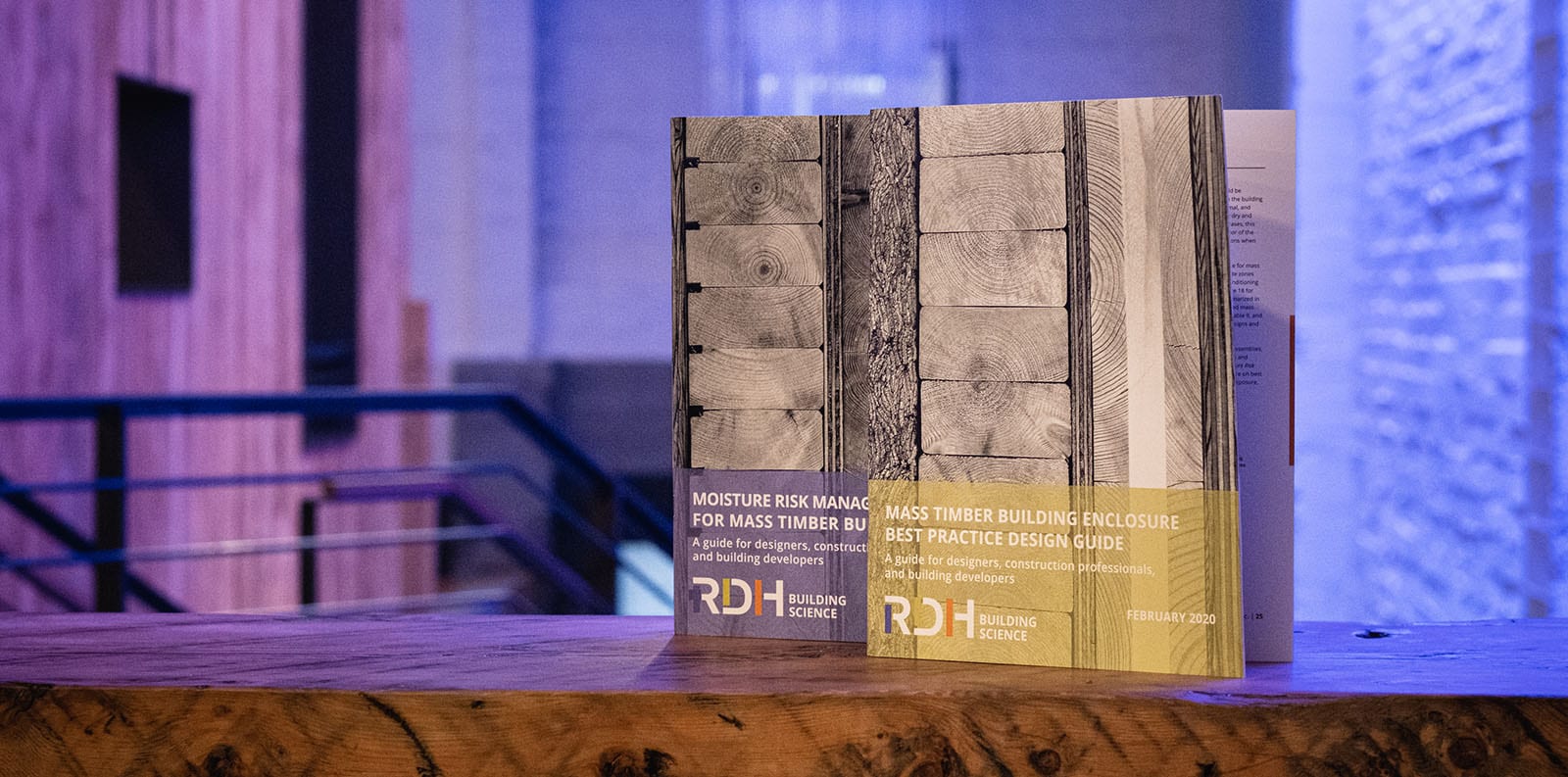 Thank you to our Mass Timber Enclosure Symposium exhibitors!

Check out these mass timber enclosure projects